[Error: unknown template qotd]
Rudy ran away shortly after we moved to KY. It was near Halloween, and I was devastated-black cats don't do well around Halloween. Mom was putting food out to lure him back, but one night she forgot - only to hear a horrible yowling on the front porch. It wasn't Rudy, but a half-starved little furball, demanding supper. Naturally, Mom carried the poor critter into the garage-shushing me so Dad wouldn't find out right away. And that's how Hachi moved in.
Rudy showed up a few months later-came in through the garage. He sat on Mom's lap and 'talked' to her all night-clearly he'd had an adventure, if only we could have understood him.
.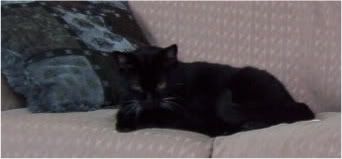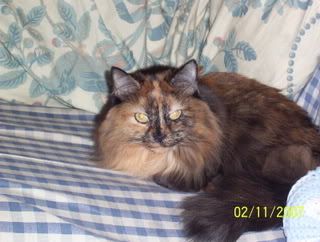 It's not clear from the pictures, but Rudy's nearly 3 times the size of Hachi. Rudy is a sweetheart who loves to butt heads as a greeting. Hachi has a bit of a temper.